Meet The Cats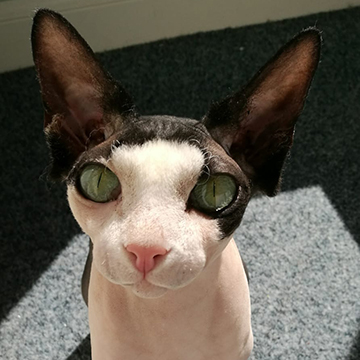 Elodie, Sphynx
Elodie Chauve is our incredible Sphynx. We are one of the only cat cafes in the world with a Sphynx cat and Elodie is just as special as you'd expect! She is a very vocal little lady and we enjoy putting together a bespoke couture wardrobe for her. If you'd like to make her something then just let us know!
Likes: sitting on your shoulder, chatting, a nice warm blanket.
Fabian, Norwegian Forest Cat
Fabian is a handsome Norwegian Forest Cat and is actually Jacques' half brother. So yes - that means one day we hope he will be just as big! He is an incredibly social little chap and is always seeking out a new lap to snuggle on. Like Pauline he developed a taste for cake very early in life so keep your eye on him.
Likes: everyone and everything! A warm lap is his favourite place.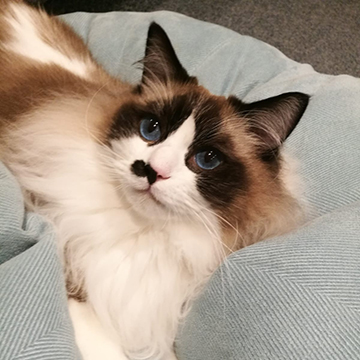 Alain, Ragdoll
Sweet little Alain is our second male ragdoll. He is very affectionate and often found spooning his sister Amelie. His piercing blue eyes and distinctive moustache really add to his character. Alain is a very vocal little guy and always the first to tell us it's lunchtime!
Likes: rolled up paper balls, hanging out on the bridge, being your shadow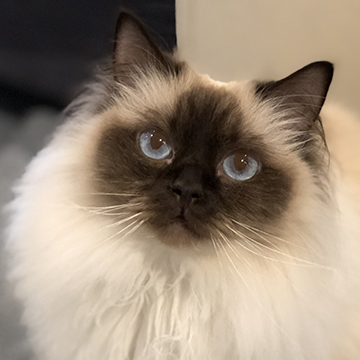 Amelie
Amelie is our playful little Princess and the tiniest ragdoll of the bunch. She loves a tussle with her bro and a snuggle with just about anyone! We call her our toasted marshmallow due to her markings - and she is just as sweet! Don't be fooled though - this little lady can hold her own!
Likes: playing on the sofa, nose rubs, being generally adorable.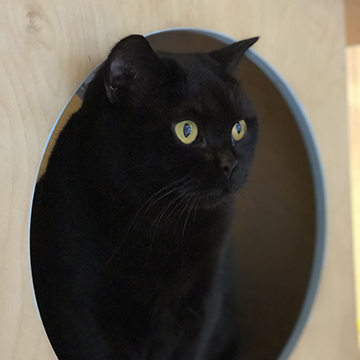 Coco Carbonelle, British Short Hair
Coco is our stunning British Short Hair lady. Her striking amber eyes and glossy coat are her signature. As the first lady of Maison de Moggy she has a lot of swagger and struts her stuff around the cafe. Although she is a often shy girl she has plenty of attitude which you will learn all about if you get too close to her tummy!
Likes: feet, ribbon, and string Dislikes: tummy rubs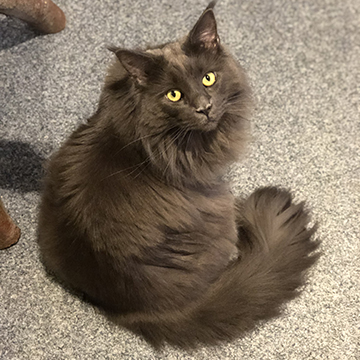 Pauline, Maine Coon
Pauline is our Maine Coon girl with an extraordinary paw-shake - she is polydactyl! If she'll let you have a look at her front paws you will notice her giving you two thumbs up! Pauline is very striking and will one day rival Jacques for stature at Maison de Moggy when fully grown.
Likes: feathery toys, having a chat, the water fountain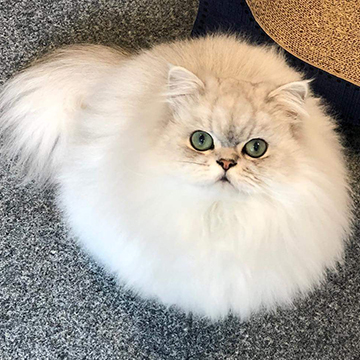 Guillaume, Chinchilla Persian
Guillaume (yes - he really is a boy!) really needs very little introduction as he has already established himself as quite the little local celebrity. Named after Shakespeare, he too is from Stratford Upon Avon. Guillaume is a chinchilla persian and fittingly for his regal demeanour enjoys lounging on his throne.
Likes: chin scratches, being pampered, scones.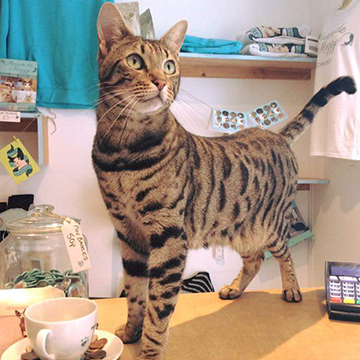 Marcel, Bengal Siamese
Marcel is the lighter, spottier half of our Bengal Brothers.
He is a very playful character commonly seen wrestling with his brother, Philippe. Look out for his tail curling over - trouble is on the way! When the energy wears off Marcel is one of the most affectionate cats and loves tummy rubs in the sun.
Likes: cuddles in the window, wrestling, having a chat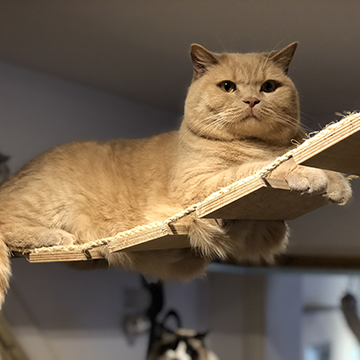 Sebastian, British Short Hair
Sebastian is a very well-pawed British Short Hair with the full title 'Sebastian de la Creme'. His father was a Dutch champion and we think Sebastian could follow in his paw-prints. He is a chubby cheeked little guy with the loudest purr in Edinburgh.
Likes: Chin scratches, tummy rubs, bubble wrap, dinner time.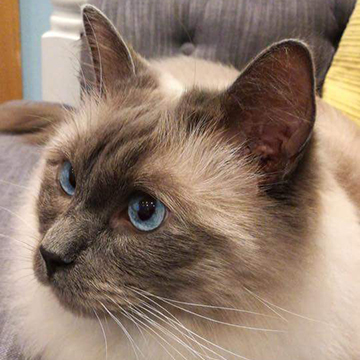 Pierre, Ragdoll
Pierre is a gorgeous blue pointed ragdoll born and bred in Edinburgh. He was the very first kitten at Maison de Moggy and not likely to let the others forget it. Pierre is a very playful and social guy with a crazy glint in his eye. He is also a bit of a houdini...doors are no obstacle to this guy.
Likes: tearing around the cafe for no particular reason, tummy rubs (for a while!), karate.
Jacques, Norwegian Forest Cat
Jacques is a rare Norwegian Forest Cat. He is the eldest cat at Maison de Moggy and has an impressive beard to prove it.Although he may not always interact with the rest of the group he does like to keep order. You'll know he is ready for attention as he politely raises his paw. If you are really lucky he may treat you to a song.
Likes: ear rubs, pieces of string, singing.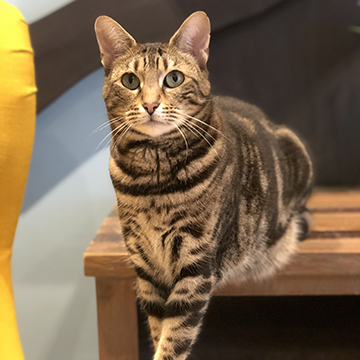 Philippe
Philippe is the other half of our Bengal-twins. He is the most playful of all the cats in MDM, he adores his straw toy and will wake from the deepest sleep just to play. Philippe is the only cat brave enough to master the swinging bed and his charming personality has won him the friendship of every cat and human in the cafe. Philippe and Jacques have a particularly special friendship but he will happily snuggle with anyone! We call him our little puffin because of the markings on his face.
Likes: his straw toy, hiding in the bubble wrap, lunch time-fun times with Jacques.